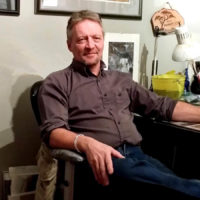 Graham Flatt is a western artist whose images reflect his passion for painting. Primarily self-taught in the areas of design and composition, Flatt has attended a variety of watercolor workshops over the years.  His dedication to painting has allowed him to experience many influences, which has ultimately resulted in his signature style of painting. Flatt is a very bold, direct painter with an emphasis on strong design elements. Working with a limited palette, Flatt maintains a delicate balance between passion and design.
Graham was awarded the Ralph "Tuffy" Berg Award for the Best New Artist at the 2000 C. M. Russell Auction of Original Western Art in Great Falls, Montana. Flatt is the only international winner of this award in its 38 year history. His design for a 3/4 life size buffalo was chosen as one of only 24 for a C.M. Russell museum fundraising effort. Flatt has gone on to win numerous other awards including "Best of Show" and "People's Choice" in both Canada and the U.S.
Flatt has quickly emerged as one of Canada's top western watercolorist with numerous sold out shows throughout Canada and  the United States. Recently, Graham has added acrylic painting to his repertoire and has begun exploring chalk pastels in conjunction with his dynamic watercolors.
His enthusiastic approach to watercolor and instruction has made Graham a sought after workshop instructor and lecturer in both Canada and the United States.
Flatt is currently represented by galleries in Alberta Canada, Wyoming and Montana