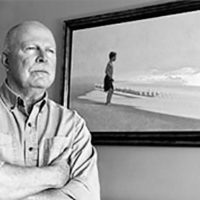 Michael Thompson was born in the working class neighbourhood of Eastend Montreal in 1954. The blue collar values that were instilled in him by that neighbourhood in his formative years remains with him today, and it can be said that as he gets older these values have become a pronounced influence on his artwork. Apart from Canadian realists such as Alex Colville and Christopher Pratt. the work of the American artist Edward Hopper and The Ashcan School of Art has become a significant influence on his art.
After three years of undergraduate studies (BFA) and two years of graduate studies (MFA) at Concordia University in Montreal, Michael moved to Ontario in 1978 and began his career as a full-time professional artist.
As Michael's career progressed, his work has been exhibited widely in both public and private galleries in Canada and the United States, including large survey exhibitions at The Art Gallery of Hamilton , The Kitchener – Waterloo Gallery and The Art Gallery of Peel. His work can be found in major in major public, corporate and private collections throughout North America including the Art Gallery of Ontario, The Musee D'Art Contemporain de Montreal and The Vancouver Art Gallery. As well in the United States, Michael's is part of the permanent collections of Edwin Ulrich Museum, Plattsburgh State Art Museum, as well as The De Saisset Museum.
Michael has said that his single greatest artistic achievement over the last forty years may be that he continues to be a full time professional artist.