presented by Picture This Gallery
2023 Public Draw Complete
More info call 780-467-3038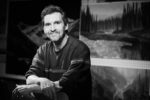 RESIDES:  Kelowna, British Columbia, Canada
EDUCATION:  started painting at the age of twelve and at the age of fourteen apprenticed under well-known seascape artist Loren D. Adams, Jr. in the Vancouver Granville Island district.
-late teen years, Arndt discovered his love for the Rocky Mountains and spent several months each year exploring Alberta's Lake Louise, Jasper, and Athabasca regions, hiking and camping at the base of towering mountains and ancient glaciers.
-fascinated with west coast Haida totems. Arndt studied the history of totems at the University of British Columbia and started to incorporate them into his seascape paintings
Roger D. Arndt's hallmark scenes of towering Rocky Mountains, western forests, Pacific shores and gardens have captured the attention of fine art collectors world wide.