Loon Gathering at Big East
Robert Bateman
Limited Edition Print
Giclée Canvas
60 × 30 in
Artwork Description
"From my childhood, my joy was to explore the lakes in the Canadian northland. The spirit of those lakes was, and still is, the common loon. They sometimes assemble in quite large numbers before their southward flight. To millions of people, loons symbolize the clean, remote wilderness.
It is partly the familiar sight of the elegant silhouette, but mainly the haunting cry. Now, of course, lakes like this one are threatened by acid rain, the fish population is declining as the acidity rises. In time, there will be no food for the loons, and our lake will be dead. Let us hope that powerful forces will come to the rescue in time." – Robert Bateman
---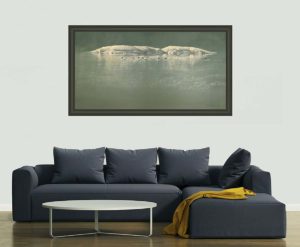 Robert Bateman's showstopper canvases offer you the opportunity to see these paintings in their original size, and to fully appreciate their full depth and beauty. At this scale they are truly stunning. Giclée printing is still the finest method available. These large format giclées are the best way to enjoy the paintings of Canada's favorite artist.
Available as:
30″ x 60″ – Showstopper Giclee Canvas – Edition Size 99
20″ x 40″ – Giclee Canvas – Edition Size 180
16″ x 32″ – Offset Paper – Edition Size 950