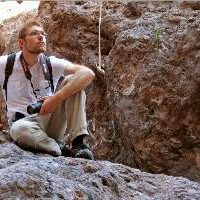 In the increasingly crowded field of wildlife artists, Andrew Denman stands out for his distinctive look in addition to his masterful painting skill," writes veteran art writer and magazine editor Jennifer King in a 2008 editorial for Create Better Paintings.com. Denman is an artist known for capturing diverse subjects, from wildlife, to landscape, to still life, in an equally diverse range of styles. His recent work focuses on intimate wildlife portraits and scenes approached with a unique combination of hyper-realism, stylization and abstraction.
Denman holds a BA in Fine Arts from Saint Mary's College in Moraga, CA. He is well known in the San Francisco Bay Area as both an artist and teacher, and he has gained national attention through major gallery showings, numerous museum exhibitions, artist workshops and speaking engagements as well as feature coverage in such publications as Southwest Art, American Artist, Western Art Collector, Wildlife Art and The Artist's Magazine, among others.
Born in 1978, the Bay Area native showed a great degree of interest in art from an early age. Denman organized his first one man show in high school at a local library and soon after began participating in exhibitions with Pacific Wildlife Galleries in Lafayette, CA, where he went on to hold four successful solo exhibitions. Denman is currently represented by Trailside Galleries in Jackson, WY, and maintains Denman Studios at his home.
His work has toured nationally with Birds in Art and the Society of Animal Artists, which has thrice honored Andrew's work with Awards of Excellence. The artist is a regular participant in the highly competitive Western Visions Miniatures and More Exhibition and Sale at the National Museum of Wildlife Art in Jackson, Wyoming, an institution that named him the Lanford Monroe Memorial Artist in Residence for Winter of 2009. Denman's work can be found in the National Museum of Wildlife Art and The Leigh Yawkey Woodson Art Museum, Wausau, Wisconsin, and numerous private collections across the country. The artist is a member of the Society of Animal Artists, NY, The International Guild of Realism, Arizona, and Artists for Conservation, Canada.
Whether painting an animal in its natural habitat or juxtaposing it against an abstract background, Denman goes to great lengths to faithfully portray his subjects, taking frequent field trips to nature areas, parks and zoos to observe his subjects and acquire reference material. Yet while accuracy is always of great importance, Denman is an artist before he is a naturalist. The sense of fearless experimentation and originality he brings to his paintings testifies to the artist's true focus. As Mary Nelson writes in the Nov/Dec 2004 issue of Wildlife Art magazine, "In the end, it's not the mood, the meaning or the method that Denman craves. It is the medium―art."