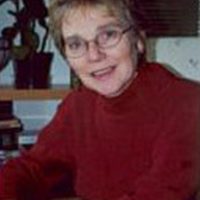 "Where we live, as we grow, we take in the energy of that area and it becomes a part of who we are. We cannot escape it, but we can view it from many perspectives, each impacting its own emotions; creating its own memories; taking us into our own direction. Having grown up in the country, I have a close affinity with the land. I have to embrace and become each area of the landscape in order to interpret that sense in a way others may feel my intensity. I paint to convey my emotions and feelings – expressions of everything around me. Inspired by Turner, Constable, Van Gogh and the Group of Seven, I desire to continually push colour to interpret the strength and diversity of this land. Regardless of the season, I am inspired by the fleeting beauty and eternal power of nature. My choice of mediums are pastel and oils, although I have also worked in watercolours and acrylics"- Audrey Pfannmuller
Audrey Pfannmuller was raised in a small rural community in north western Alberta.  Art and design have always been an important means of expression for her.  She began her formal education at Olds College with a fashion certificate, which was followed with a couturier degree under Sig Plach Couturiers of Edmonton.  She then went on to study art at the Extension Branch of the University of Alberta.
Audrey paints to convey her emotions and feelings – expressions of everything around her.  She enjoys working in pastels and oils and shows her love of people by choosing to paint them and their environment.  Audrey Pfannmuller's artwork can be found in fine galleries throughout Alberta.