Biography of Barbara Banthien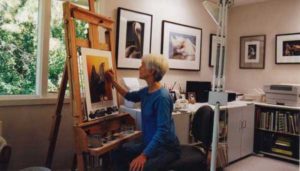 Barbara Banthien
Inspiring articles and tips on art, artists, framing and life!
Be Inspired!
Before I began to paint full-time in  1994, I was a freelance illustrator for twenty years, producing images for Apple Computer, American Express, Smuckers and many others. But always taped to a corner of my drawing board were the beginnings of some bird or animal that I would try to get to, time permitting. It finally made more sense to stop and turn my full attention to the work that really moved me.
I paint nearly every day and I paint very slowly. I am most intrigued by the small things—light on feathers, the turn of a head, patterns in a wing. I only complete four to six paintings a year, but this slow process of defining subtle details over a period of months gives me an opportunity to get deeply involved with each painting I work on, and I like that.
"I have had a long time fascination, even reverence for birds. Flying past my studio window, seeing them in the sky, there is something otherworldly about these creatures to me. Feathers and wings, beauty and grace, by nature elusive, they excite me to paint."
I focus on birds—ones I can see, know and study up close. I feel a connection to the animals through painting them, and I try to render each one's essence in my work. I feel exceptionally lucky that my focus is clear and that I am able to devote my time to pursuing this passion."