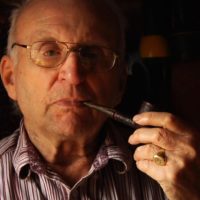 The face of the Canadian Arctic has forever changed since Bern Will Brown left his home in Rochester, New York, at the age of 28 to find adventure as a Roman Catholic priest in the far North.
Brown's life has been filled with activity:  mushing dog-teams down 70 miles of frozen river in 40-below blizzards, constructing beautiful churches and other buildings from hand-cut spruce logs, leading a native team on a 3,000-mile Centennial canoe race, helping unionize a mine, photographing the northern wastes, working as a medic, hunting herds of caribou, and painting realistic portraits of northern life.
In 1971, Brown received permission from Rome to marry; that summer, he and Margaret Steen, a native Northerner, were married by Bishop Paul Piché.
Bern Will Brown lived in Canada's far North for over fifty years. He and his wife, Margaret, lived at Colville Lake, above the Arctic circle. Brown passed away on July 4th, 2014.