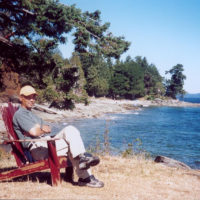 Born in 1957 and raised in Jinan, China, Yuan Cheng Bi's career as an artist of various mediums began in his home country. Under the guidance and encouragement of his father, Bi began practicing art at age five. At the tender age of eleven, Bi was taken under the wing of one of China's most prestigious art professors to learn landscaping, watercolour and oil. This mentorship would go on another ten years and prove to be a great factor in Bi's later successful career in art.
By 1975, Bi had already established himself as an accomplished art instructor in Jinan's Art Club. In 1979, Bi moved on to attend the ZiangXi Art University, earning himself a Bachelor degree in Art. Bi's reknowned gift for art continued to blossom in ZiangXi and in the four years he attended the school he consistently found himself as the top student in not only his classes but in the district. Dozens of Bi's pieces were collected by the university's art museum.
After graduating in 1983, Bi went on to work in landscaping and sculptural design at Shandong Architectural Company. In 1985, Bi's sculpture titled "Teasing Swan" received second place in a provincial art competition and was recreated in marble, standing two meters tall for the City of Jinan's Central Park.
Bi's success in sculpture continued on the next year when he was chosen over one hundred competitors from around the nation to design the sculptural landmark for Shandong Stadium – the province's largest sports facility. The finished product was a metal and concrete sculpture standing thirty meters high, symbolizing the unification of common people through sport. His work for the city continued on in 1989 for China's National Day, when Bi designed a fountain in Jinan Centre Square filled with water lilies, the city's official flower.
With his rising career in sculptural design, in 1987 the Province of Shandong gave Bi the nation's highly distinguished and recognized title as a Chinese Art Master.
In 1989 Bi was accepted into the prestigious Chinese Encyclopedia of Art.
Immigrating to Canada in 1990 was a big step for Yuan Cheng Bi. He settled in Edmonton, Alberta for a period of 18 years and presently lives in Victoria, British Columbia. Bi started his own art studio in 1992 and works predominantly in oils and acrylics as well as mural painting. For the last ten years Bi has painted over fifty murals throughout Alberta, one of the most notable at The International Edmonton Airport and the Drayton Valley legion.
Bi Y Cheng has been commissioned by various corporations. In 2006 – 2007, he created ten commissioned paintings depicting their history for the new June Warren Building in Edmonton, Alberta. He created four conceptual paintings for Ready Engineering depicting the history of engineering in the world. He has often been called upon for his skill in capturing an abstract idea or a definitive portrait.