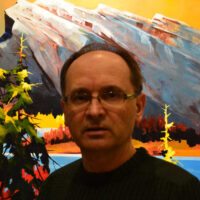 Branko Marjanovic lives and works in Calgary, Alberta. Since the age of 14, his passion for art has always been a driving passion. During the early years, Branko explored art through the use of oils and watercolor, while over the last 12 years his preference has been acrylics. With the combination of a background as an Engineer/ Geologist, Branko's representation of art has been a fine balance of both sound design and free flow. Branko is best recognized for his incredible use of light and contrast. His interpretation of the subject is through an emotional reaction balanced between intricate techniques and a distinct use of colour.
Born in Europe in 1960, Branko's fascination of the Rocky Mountains ultimately led him to move to Canada in 1993. After moving to Calgary in 1999, Branko's regular trips to the mountains awoke his long-standing desire to portray through art the beauty of the Rockies, whose landscapes he captures in his unique style and palette. Being an artist for over 30 years, he continues to evolve; however, he has never lost the originality he displayed in his early years as a self-taught artist.
Branko considers himself privileged to be able to transfer Canadian landscapes onto a blank canvas. He enjoys presenting demos and workshops to the public for the positive feedback and energy. Branko's work has been displayed in private collections throughout Canada, the United States, Europe, Australia and Singapore. His work has been presented in Galleries in both solo and group shows in Alberta and British Columbia. Branko's paintings have been featured in several publications and the Calgary Stampede Artist's Studios.
"Painting is not work to me – it is something I become absorbed in. I am fascinated by the effect of the light and shade found in nature. Although I take photographs and sketches of the subject matter I paint, I do not allow them to control me. Art should not be a copy of a photographic image but the mood and impression of the subject. In this regard, I prefer a good pencil sketch as I find that it captures the basic elements and provides better composition than a photograph."
"Thank you for your appreciation of my artwork. I am living the dream."