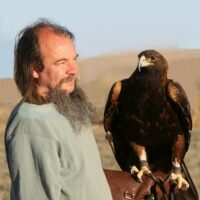 Carel Pieter Brest van Kempen grew up in Emigration Canyon, Utah, an ideal place to walk and explore and indulge his youthful fascination for the wild and its varied inhabitants.
Brest van Kempen's meticulously executed paintings explore the rich variety of nature. Mysterious and exotic reptiles and amphibians rendered in brilliant jewel tones attest to the artist's belief that chief among nature's hallmarks is its diversity. Brest van Kempen's subjects, while untraditional, are no less threatened than those more commonly seen in wildlife art, and they are just as essential in the grand scheme of nature.
Brest van Kempen's paintings have received widespread acclaim and have been exhibited throughout the world, earning a number of prestigious awards in the U.S., among them "Best of Show" at the 1995 Southeasternn Wildlife Art Expo, the 1995 and 1998 Pacific Rim Wildlife Art Shows, and the in 1992, he earned the Arts for the Parks Wildlife Award. In 1994, he was elected to membership in the Society of Animal Artists, which honored him with their highest honor, "The Award of Excellence" in 1994, 1996, 1997, 2004 and 2006.
Brest van Kempen's work can also be found in the permanent collections of The Springville Art Museum in Utah, The Leigh Yawkey Woodson Art Museum in Wausau, WI, The World Center for Birds of Prey in Boise, Idaho, and the Bennington Center for the Arts in Vermont. He has illustrated a number of books, most recently, Frank DeCourten's Dinosaurs of Utah, published in 1998 by The University of Utah Press, and Brian Kend's.