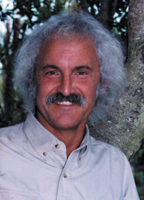 The artistic visions of Carl Brenders reflect his respect for nature. His precise and lively paintings capture the extreme realism of the birds, mammals and habitats he depicts. Brenders paints every detail of his wildlife images – feathers, hair, leaves or pine thorns – until, he says, "they get into my skin."
Brenders was born near Antwerp, Belgium, and has drawn since childhood. He studied at the Fine Arts Academy in Antwerp and later at Berchem. He has produced wildlife illustrations for a series of books entitled The Secret Life of Animals. His artwork is regularly exhibited in the Leigh Yawkey Woodson Art Museum's prestigious "Birds in Art" and "Wildlife in Art" shows.
The wildlife images of Brenders' art are first created from pencil sketches; from these sketches his mixed media paintings of watercolor and gouache are completed with a technique he has developed during the last 25 years. His paintings, which encompass every intricacy of nature, devote equal attention to the detail of the wildlife subject and its habitat as well as to the mood created by the light.
Brenders' art enjoys international acclaim. He is widely collected in North America, France, Germany, Japan, Spain, Holland, Argentina and in his native Belgium. Brenders combines his dreams, his senses, his imagination and his strict attention to anatomical perfection to make his paintings. He says, "Nature is already beautiful, already perfect. That is why I paint the way I do with so much detail and so much realism – I want to capture that perfection."
"Wildlife art shows the essence of life and tells a story of millions of years. This planet could be a paradise. That's what wildlife artists want to show you. I will keep showing the wild beauty of this planet to the world." – Carl Brenders
CREDENTIALS:
EDUCATION:
Academy of Fine Arts, Antwerp, Belgium
Academy of Decorative Arts, Berchem, Belgium
AWARDS AND HONORS:
Southeastern Wildlife Exposition: Charleston, SC
'Featured Artist': 1997; 'Guest Artist': 2000, 2002, 2005, 2007, 2011-2012
National Museum of Wildlife Art: Jackson, WY. 'Featured Painter' 2003; 'Guest artist' 2004 & 2007
Leigh Yawkey Woodson Art Museum: Birds in Art 'Master Artist' 2002
Bennington Center for the Arts, VT: Art and the Animal Kingdom VIII 'Featured Artist' 2003
Society of Animal Artists: New York
Award of Excellence: 'Long Distance Hunters' 1988; 'Talk on the Old Fence' 1989; 'One to One'
1993; 'Rocky Camp' 1994; 'Without Warning' 2000; 'Gleam of Gold' 2001; 'Trick or Treat' 2002
MAJOR SHOWS AND EXHIBITIONS:
Birds in Art:  LYWAM – Wausau, WI. 1984 – 2000, 2002 – 2020
National Museum of Wildlife Art & Western Visions: Jackson, WY. 1999 – 2020
Picture This framing & gallery: Masterpieces in Miniature Sherwood Park, AB, Canada. 2016 – 2020
Trailside Galleries: Jackson, WY & Scottsdale, AZ. 1983 – 2003, 2007 – 2016
Wildlife Art: Artists Viewing Nature Museum Tour: Germany 2016 – 2017
Oldenburg: Landesmuseum Natur und Mensch; Berchtesgaden: Museum Schloss Adelsheim;
Mainz: Naturhistorischen Museum
Celebration of Wildlife Art: Kenai Convention Center, AK. 2012
The John Southern Gallery: Liskeard, UK. 2002 – 2008
SPECIAL ACHIEVEMENTS:
Master artist in several expositions
Moscow (Russia) special event, Young & Rubicam, 1/30/2016
Oldenburg (Germany) 3 museum tour 2016-2017
Zoersel (Belgium) 2 artist expo, March 2016
PUBLICATIONS:
The Editors. 2009, 0ct. – Dec., Carl Brenders/Belgique. L'Art de l'Aquarelle, No. 2, 68-74.
Pride of Place: The Art of Carl Brenders.
Langford, Peterborough: Langford Press, 2007. Print.
Wildlife Art. Carl Brenders Artwork on Front Cover. Nov/Dec 2006
Wilkinson, Todd. 2002, Carl Brenders: 2002 Master Wildlife Artist. Birds in Art Exposition catalogue, September 7 – November 10 2002, Leigh Yawkey Woodson Art Museum, Wausau, WI.
Clinger, Linda D'agostino.  2001, Nov-Dec. Master Feature Carl Brenders. Wildlife Art,
Volume XX No. 6., 64-67.
Song of Creation. Art by Carl Brenders. 2000. Baker Book House
PERMANENT COLLECTIONS:
Ford: Dearborn, MI                                       Woodson Art Museum: Wausau, WI
Nature's Scenes: Mississauga, Ontario        National Museum of Wildlife Art: Jackson, WY
The Wildlife Experience Museum: Parker CO