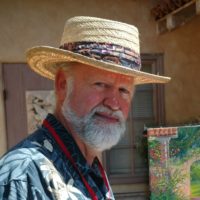 Born in Quebec, Charles H. White displayed an early interest in art and by the age of ten had won his first national art contest. Selling many of his works while still in his teens, White decided to further refine his artistic talents and business skills at Brigham Young University.
After graduating, he began a 20-year sales career and painted as an avocation. In 1994, when income from his art exceeded earnings from his sales position, he decided to pursue a career as a painter.
Each of White's composition is classically crafted with attention to the principles of design, color, value and contrast. His time-consuming techniques create a luminous, multi-layered work that welcomes viewers into a world of tranquil beauty and elegance.
Over the years White has won many awards at juried shows. In a recent issue of U.S. ART, he was noted as an "Artist to Watch," and his work has been selected by "Art for the Parks" for three consecutive years. His originals are collected around the world from New York to Japan and various European countries.
CREDENTIALS:
EDUCATION:
-Brigham Young University – graduated 1965 with BA Minor in Art
AWARDS & CREDENTIALS:
-Member of California Art Club
– Artist to Watch , USA
– Finalist in " Arts for the Parks, USA" three years in a row
-First Place Simic Gallery All artist competition 2001
-Best of Show:  Contra Costa Academy of Art 2004
-Top Seller:  Pacific Fine Art Shows
– Multiple awards at juried shows
PUBLICATIONS:
– Path Worth Taking – Book
-Featured in: US Art, Art Trends, Décor,
Art Business News
ACHIEVEMENTS:
– Published by Hadley House for over 10years
– Selling over 900 works of art in the past 20 years
– Images licensed to many USA and Canadian manufacturers
– Artist advocate
– More than 40 years of experience creating works of art
– Originals collected around the world from Japan, New York and various European countries
RECENT SHOWS AND EXHIBITIONS:
– One man shows: Zantman Galleries, Simic Galleries, Lee Youngman Galleries, Art Expo New York
-Group shows: Jones Gallery
RECENT INSTRUCTIONAL WORK:
– Invitational instructor at Plein Aire at International Plein Air Convention and Expo in San Diego and Santa Fe (5 years in a row)
Currently a Instructor in Oils at the Danville Alamo Cultural Alliance, San Francisco.