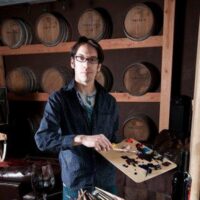 Born in 1975 in Oakland, California, as a child Christopher M always had a penchant for drawing and painting. But he never considered being an artist a viable vocation until he entered a contest in his senior year of high school to win a semester scholarship to an art school. His portfolio prevailed and was awarded the scholarship and Christopher M has never looked back.
Educated at the noted Academy of Art University in San Francisco, Christopher M. graduated with a Bachelor of Fine Arts degree in Illustration in 2000. He earned awards and honours from the Academy for his sketchbook, figure painting, landscapes and still life works. He also earned accolades from the San Francisco Society of Illustrators of which he is a member.
When asked about his inspirations and internal motivations for creating his art, Christopher M. pauses introspectively and states, "Generally speaking, I would like my paintings to communicate my own sense of morality, my sense of what is true and honest and what is really of value in life."
His most recent passion is that of capturing the culinary arts. Christopher M. creates drama in sharing his personal appreciation for a job well done. "Like a Master Chef striving to create culinary excellence, he needs the same proper tools, training and passion as any fine artist to create a thing of beauty for someone else's consumption." The images fluid with motion captures a stream of consciousness stemming from the artists appreciation for the hard work and creativity that goes into any appreciable art form.
Oil paint is his medium of choice for its dexterity and luminous longevity. Christopher M's paintings possess a seductive splendour unique to most work of this genre. His fresh perspective of an old discipline is one that will surely stand the test of time. With hope and intentions for growth, we will watch the evolution of this young artist.