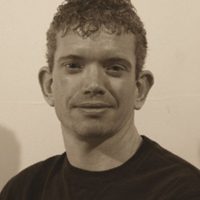 Cole Johnson has lived in upstate New York his entire life and now resides in Deposit, New York, a small town in the Catskill Mountain region. The artist completed his BFA with a concentration in Painting at the State University of New York at Buffalo in 1991.  Hunting, fishing, and spending time in "the woods" have been the preferred activities most of his life. Favorite subjects include the species he is intimately acquainted with in the field – the white-tailed deer, trout, turkeys, hunting dogs and waterfowl.
Although he has worked in oils, the artist prefers to work in graphite powder. "The contrast of black and white appeals to me," says Cole. "I enjoy the challenge of making a drawing come to life based solely on tonal value."   Incorporating the powdered graphite into his work creates a softness otherwise unobtainable, and gives a distinct "mood" to many pieces. Use of the eraser as a tool in later stages of the drawing allows reintroduction of light and depth. Close-up, detailed portraits of deer, dogs, waterfowl and birds of prey are favorite pieces. Johnson generally produces works in his Smithville Flats studio after close observation in the field and taking of numerous photographs whenever possible.
In addition to numerous local and regional shows, the artist  continues to broaden his exposure nationally by attending shows such as the Southeastern Wildlife Exposition in Charleston, South Carolina and the Waterfowl Festival in Easton, Maryland.   In 1998, Cole was inducted into the Society of Animal Artists, a prestigious group of animal artists devoted to "promoting excellence in the portrayal of creatures sharing our planet."
In addition, Cole has been juried into such prestigious exhibits as Birds in Art, Leigh Yawkey Woodson Art Museum and the National Arts for the Parks Competition where he was chosen Region 1 winner and received a Judges Award of Merit, among other awards.