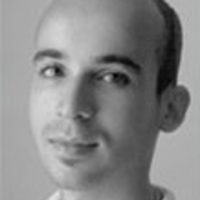 Daniel Dos Santos, born in 1978 demonstrates fine artistic abilities remarkable for an artist of any age. To see it in one so young is extremely rare. Already a highly respected young adult science fiction illustrator, Dos Santos works with Scholastic Books, Inc. and Tor Books.
During his last year of high school, Dos Santos took a Careers In Art class. The class required an internship. Dos Santos was fortunate to land his internship with internationally recognized illustrator and landscape painter Steven Stroud. After graduation from the School of Visual Arts in New York City in 2000, Dos Santos and Stroud set up a studio in Shelton, Connecticut in a historic 100 year-old factory.
Early in 2001, Dos Santos began to explore figurative painting that led to several portrait commissions. Dos Santos finds that the classic painting style of figurative painting is a welcome balance to his expressive science fiction illustrations.
Daniel graduated from the School of Visual Art, NYC. He was a recipient of the Rhodes Family Award for special achievement in illustration in 2000, as well as the Starr Foundation Award for 2001. He work has been reproduced as posters for the School of Visual Arts and the Society of Illustrators. Daniel's work is included in the permanent collection of General Electric.