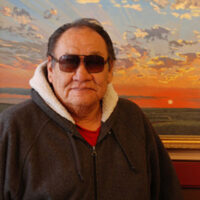 "There are a lot of people," begins Daniel Long Soldier, "who don't know the history of our people as we know it. They have only heard one side of a story or what they have seen in Hollywood movies. The stories I'm telling I've heard from people who are 80 or 90 years old and heard these stories from their parents. These are the stories my grandpa, my uncles and my dad told me."
Daniel is an Oglala Lakota Sioux born on the Pine Ridge Reservation. He first began drawing with sticks on the sandbanks of a local creek. Recently he found that the drawings he made on the walls of the house he grew up in as a child are still there. This self-taught artist worked as an illustrator during the 1960s for the Dayton Journal News, but returned to Pine Ridge during the turbulent 1970s.
Long Soldier started painting what he calls Lakota Wicitowa (Lakota Paintings) in the mid-80s because he liked the authenticity and simplicity they lent to the story they told. Even then he would only paint them for special occasions such as buffalo robes he created for the Omaha in Macy NE and the Santee Sioux.