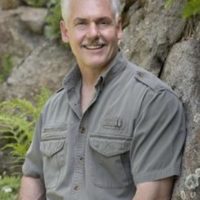 Daniel Smith, one of America's foremost wildlife artist, lives in Montana, surrounded by the wildlife he loves to paint. Smith enjoys wide acclaim for his conservation stamp artwork, winning the 1988-89 Federal Duck Stamp Competition. His global prominence in the world of wildlife art has afforded him the honor of creating the original artwork for several international programs as well. His reputation for excellence has made him a favorite of collectors of original paintings. Smith has used his art to endorse and aid many conservation efforts.
Named "Artist of the Year" at the 1997 Florida Wildlife Art Expo, he writes, "I want people to experience the peace, the tranquility of the wilderness, of being the only one out there, communing with nature."
Throughout his career Smith has used his art to aid and endorse many conservation efforts. He feels indebted to the natural world that has been the sole inspiration for his award winning career.