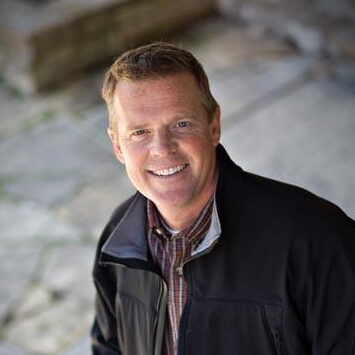 Darrell Bush paints a variety of subjects ranging from wildlife, to landscapes, seascapes, nostalgia, and even an occasional still-life. One element echoing through all of his art is the luminescent presence of light. Light, whether man-made or natural creates a mood and helps convey the story.
With Bachelor of Fine Arts degree from Northern Illinois University, Darrell was juried into the prestigious New York Society of Illustrators annual student competition. He then put his education to work in Minneapolis, Minnesota were he worked as an Illustrator for 5 years. He considered this position to be further training, having the opportunity to work under seasoned illustrators with years of experience.
He began his career as a full time painter in 1989 after winning two stamps competitions for Minnesota and Idaho. Today he has nearly 100 images in print. Since 1994 he has been voted for several US art magazines as one of the America hottest artists and has been selected as Artist of the Year (1997) and Best of Show in many fine art shows.
CREDENTIALS:
EDUCATION: Bachelor of Fine Arts degree from Northern Illinois University
ACCOMPLISHMENTS:
His career hit the ground running in 1987, after winning two national stamp competitions for the state of Minnesota, and Idaho. Darrell's success continued when he was named among America's 12 most popular artist by four different national art publications.  Art publications such as USArt magazine conducted these polls annually by surveying North American art galleries, and placed Darrell with high rankings for several years. The same publication named him a Rising Star in 1995.  Inform Art magazine named him one of the Top Ten Hottest New Artists in 1994. Darrell's work has also been juried into many fine art shows where he has received several "Best of Show" awards. In 1997, Darrell was named "Artist of the Year" at the Wildlife, Western, and Americana Art Show in Minneapolis, MN.
Two of his lithographs hang in the Ronald Reagan Presidential Library and his work was also part of a special reception at the prestigious Gilcrease Museum in Tulsa, Oklahoma.  Actor Burt Reynolds and celebrity animal expert Jack Hanna also own his work.
Darrell has also contributed several print editions to The Boy Scouts of  America fund-raising programs. In addition, a number of conservation organizations have also benefited from his generosity including The National Fish and Wildlife Federation, Ducks Unlimited, Pheasants Forever and The National Wild Turkey Federation. Most recently Darrell was selected as a featured artist for The Rocky Mountain Elk Foundation.
Currently Cabela's Sporting Goods Co. has featured Darrell's art on 17 masters catalog covers the last three years, and has commissioned the 2013 covers as well.