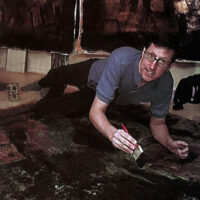 "I create paintings from the land using age-old techniques and natural paints and materials. I push the limits on what and how we perceive our land. I want to explore the guts of the land, using earth's natural materials, and recreate natural paints and patinas from the Renaissance and bring them to the forefront of today."
Edward Michell was educated at the Alberta College of Art and Design in Calgary, Canada, Ryerson University in Toronto, Canada and F.A.O.L. Carcassonne, France. Edward maintains art studios in Calgary as well as in France. His contemporary works of art hang in numerous private and Fortune 500 corporate collections, as well as in many celebrity collections.
Edward's dramatic abstract works display a haunting, ghost-like richness that evokes the coloration and patinas of another era. His devotion to the Masters of the Renaissance, as well as the New World, is evident in his studied application of multi-layered textures, delicate glazes and subtle tonal qualities.
Michell breathes life into each painting by incorporating into his palette such raw natural materials as: Tar from Alberta, Canadian gold leaf, silver leaf, crushed diamonds from the Ekati diamond mine, hand-dug ochres, natural blue paints made from blueberries, pink paints made from raspberries and beets, green paints made from the natural pigments extracted from grass and leaves. He transforms elements of the land into works of art.