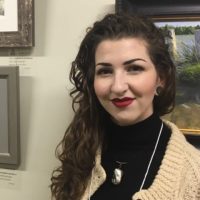 Elizabeth grew up in Lindsay, Ontario. Having a father who is an artist, he was always a large influence on her artwork. He inspired her to start drawing when she was just a toddler. This blossomed into a deep passion for Elizabeth and eventually a career.
Elizabeth primarily draws wildlife. She's always been drawn to animals, quickly forming deep bonds with them and feels most at peace surrounded by nature. She has many fond memories of being at her cottage every summer as a child. Elizabeth continues to surround herself with flora and fauna whenever possible, by going on camping trips and hikes. She can't imagine a life without quality time with pets.
Elizabeth draws portraits of animals because she feels that it's important to capture an essence of their souls unseen by simple photography. She finds the best way to do this is to clearly show the animal's eyes, using her hyperrealistic technique.
Elizabeth started her Bachelors of Applied Arts in Illustration program at Sheridan College (Oakville, Ontario) straight out of highschool. She subsequently attended the Academy of Realist Art in Toronto. Elizabeth became a member of the prestigious Society of Animal Artists in 2017. Her drawings have been in several international juried exhibitions including the Birds in Art show at the Leigh Yawkey Woodson Art Museum in Wausau, Wisconsin in 2016 and 2019, as well as the Society of Animal Artists 59th Annual Exhibition at the Briscoe Western Art Museum in San Antonio, Texas in 2019. Elizabeth's artwork can be found at the Algonquin Art Centre, in Algonquin Park, Ontario, every year.
CREDENTIALS:
SHOWS & EXHIBITIONS:
Birds in Art 2016
Birds in Art 2019
Society of Animal Artists Annual Exhibition 2019
Algonquin Art Centre Exhibition 2016-2022