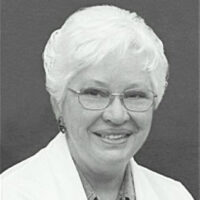 Elsie Baer was born in Brooks, Alberta and currently resides in Edmonton, of the same province.  In 1975 she began painting as a hobby while raising her family.  This hobby quickly developed into a full-time pursuit, and today her work is included in private collections throughout the world.
Using a realistic technique, Elsie works from sketches, photographs, and on location, to create scenes of the local countryside.  The natural beauty of our Alberta landscape is her inspiration and her feeling for the landscape is reflected in each of her paintings.
Although Elsie's artistic abilities have been primarily self-taught, she acknowledges assistance from several prominent artists.
CREDENTIALS:
EDUCATION: self-taught with credit to Gisela Felsberg for teaching "to see" and to Isabel Levesque for teaching "the importance of good composition".
Plein air oil painting in Wyoming with Jim Wilcox
SHOWS AND EXHIBITIONS:
-Juried exhibitions with Alberta Wilderness Association 1977-1992
-Federation of Canadian Artists
-Art Society of Strathcona County
-Arts and Crafts Society of Alberta 1992-2006
SPECIAL ACHIEVEMENTS:
– Commissioned by Lone Pine Publishing – created a painting for book cover: "Historic Trails of Alberta"
– Presentations of her work have been made to visiting dignitaries as well as senior government officials including the last two Premiers of Alberta.
– Co-owned and operated Boardwalk Original Artworks.
– Published several limited editions prints. A recent release is the sixth in a series featuring  the "Alberta Wild Rose"