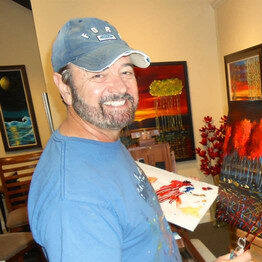 As the son of an Air Force serviceman stationed in a small Japanese village, Ford's artistic sensibilities began to take root under the nurturing eye of an elderly Japanese painter. After moving back to the States, he enrolled at the University of Mississippi in pursuit of his BFA. After graduating with a degree in Painting, Ford moved to Atlanta where he realized a natural talent for photography. During the late 70's and 80's Ford established his reputation as Atlanta's premier fashion photographer.
The early 90's, however, brought a compelling urge to return to painting. Ford took a hiatus from photography to travel the world and seek inspiration. After exploring different painting styles and themes, Ford found tremendous fulfillment creating contemporary landscapes conjured from the stunning horizons witnessed during his travels. Despite his photography background, Ford never paints from a photograph.
Ford's sense of nature is not a Romantic's wild and angry universe. Rather, he recalls the startling color combinations and mesmerizing horizons, then blends those images with his own passion and optimistic philosophy of life. The easy precision, subtlety and repose of his paintings may well derive from that Asian aesthetic he developed in his early years.
The intensity of working over a single piece to finish it makes the process very physical. He lets layers of paint – acrylics on canvas – drip and flow, just letting things happen. "I was taught in college to let the paint find the imagery," he recalls. Still, there is less accident in achieving these surfaces than one might think. They're a study in control and spontaneity, because while Ford may allow the materials to find their own expression, he then moves to manipulate them to achieve their unique composition and texture. Often, he'll embellish the canvas with plaster granules scattered across the wet surface as color and texture are forced to intersect.
"Like life, my work often transforms from its original idea," he muses, "But following a creative instinct wherever it leads is where the fun and fascination lie. Each painting is a unique journey with an undefined destination."
Ford resides in Roswell, GA with his wife and business partner, Cristi and daughter, Hilary.