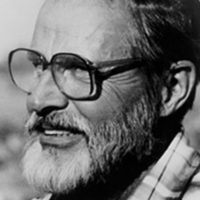 The world of Western Art has lost a great talent and leader. Internationally known   artist, Frank C. McCarthy passed away from lung cancer, Sunday, November 17,   2002 at his home of 30 years in the beautiful red rocks of Sedona, Arizona.
Frank McCarthy was born in New York City in 1924. He studied at the Art Students   League in New York City during the summers starting at the age of 14. He was a   graduate of Pratt Institute, Brooklyn, New York.
Frank McCarthy began his art career as a commercial illustrator. He painted   illustrations for most of the paperback book publishers, magazines, movie   companies, and advertisements. He created works that became posters for such   movies as the James Bond series. Frank McCarthy's talents were highly sought after by art directors enabling him to work as a free lance illustrator for many   years. His art career spanned over 50 years, beginning with a request for a   western cover for a magazine by an art director. He left the world of commercial   art in 1968, and began his fine art career after moving to Sedona, Arizona.
Frank McCarthy's dynamic paintings frequently featured the people of the west    with a special emphasis on the Plains Indian, mountain men, and cavalry that   made up the lore and lure of the old west. Appropriately entitled "The Dean of   Western Action Painters", Frank McCarthy's art was unsurpassed for its motion, drama, and absolute attention to accuracy and detail. Highly collected, and   frequently imitated, Frank McCarthy's works were treasured throughout the world   as classic examples of contemporary Western Art.
Retrospective showings of Frank McCarthy's paintings have been held at the   Museum of the Southwest, Midland, Texas; the R.W. Norton Museum in   Shreveport, La.; the Thomas Gilcrease Museum in Tulsa, Ok.; and in 1992, at the   Cowboy Artist of America Museum in Kerrville, Texas. Frank McCarthy was invited to join the prestigious Cowboy Artists of America organization in 1975 and was an   active member in the CAA group for 23 years. He was inducted into the Society of   Illustrators Hall of Fame in 1997
Five books of his paintings have been published-1 hardbound, 3 soft bound, and 1   leather limited edition book. Over 100 limited edition art prints of his paintings   have been published since 1974 by Greenwich Workshop, Shelton, Ct.