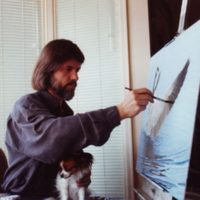 Glenn Olson's affinity with nature is a natural result of his upbringing on a ranch in Southwestern Saskatchewan. In combination with tremendous artistic potential, Olson's rural upbringing was an important stepping stone in the development of his career as a full-time artist.
Recognizing that artistic preference is a personal decision, Olson comments that " Most people who choose art do so because of a certain feeling that the work evokes. In each painting, I strive to create that magical element". As such, his work is not restricted to a specific niche of subjects. Rather, images are chosen based on their ability to inspire this talented artist. This versatility has resulted in the development of an exceptionally diverse portfolio, featuring scenes of wildlife, birdlife, western art and children.
As a recipient of local and national awards, Olson's status as an artist has been well recognized. In 1991, Olson won the prestigious Ducks Unlimited Duck Stamp Competition for the province of Alberta. One year later, Olson was presented with the very exclusive Canada 125 medal for his contributions to Canadian community and culture. He won both the Collector's Choice and Best of Show awards at the 1993 Calgary Stampede Art Auction for Young Albertans – Foals, a feat achieved rarely in the history of the show. He once again enjoyed dual victory the following year with Stuck on You, winning the Artist's Choice and Collector's Choice awards. Olson's works have also appeared in an exhibition of Western Canadian artists at the Organization of American States, in Washington, DC, as well as the Vancouver International Wildlife Art Show and the Pacific Rim Wildlife Art Show.