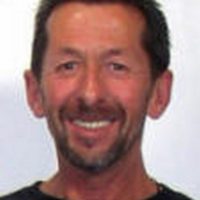 Greg Metz is a B.C. artist who loves to build. He has worked in industrial fabrication and management, with a varied background including shipbuilding, heavy duty equipment design and fabrication for the farming and forestry industries, and stainless steel design and fabrication.  He has also designed, built, and marketed numerous custom residential homes.
Known for his stylized, innovative, and often humorous steel sculptures, Greg's one-of-a-kind three-dimensional works are a unique addition to any art collection.  Polished figures in flowing lines, dynamic curves, and contemporary subject matter, his sculptures range from elegant to jazzy to dreamlike.
Each piece is hand-cut with an oxy-acetylene torch, which is also used to heat, curve and colour his flowing works.  His small hand grinder is his paintbrush.  It is used to grind 'brushstrokes' into the steel.
Greg Metz builds anything and everything his rather innovative mind can think of; ranging from functional items such as chairs and tables to 13 foot tall warriors, 2000 pound apple trees and 11 foot tall women who weave in the wind.
He also loves to draw, and this enables him to 'see' his works before he starts building them.  His musical background often surfaces in his work, from actual musicians to the flowing lines he feels are suggested by music.
Metz was chosen by the Cancer Centre for the Southern Interior to design and build a sculpture titled 'Believe' at the building entrance.  Previously he completed the 'Okanagan Wall', a 27 foot long donor recognition wall in the same building.
The artist creative use of whimsy in conjunction with his talent for sculpting has garnered the attention of private, corporate, and public collectors.  His original works and commissions are featured in collections  around the world.
"Nothing excites me more than using my imagination.  To dream a sculpture, draw it and then form it into a work that will make people smile is a wonderful feeling. I find myself smiling as I see each 'dream' materialize in my hands. It feels like magic……."
– Greg Metz