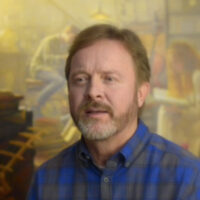 The art of Greg Olsen illuminates the soul and spirit of its subjects and uplifts the hearts and minds of its viewers. Olsen's diverse interests are deftly demonstrated in oil paintings that range from the realistic and historical to the whimsical. His luminous, delicate portraits capture not only his subjects' likeness, but their spirit as well. Landscapes of scenes from America and the world over reflect the perfect beauty of the mind's eye.
As a child, Olsen often relied on his imagination for entertainment – as an adult, his imagination entertains us with paintings that depict the best and brightest memories of childhood.
Born in 1958, Olsen was raised in a farming community in rural Idaho. His parents, artists themselves, recognized and encouraged his early love of drawing. Later, the devoted tutelage of a high school teacher cemented his affinity and enhanced his technical ability. After studying illustration at Utah State University, he was hired as an in-house illustrator in Salt Lake City, working on anything from murals and dioramas to simple paste-up. Two years later, he followed a friend's advice and began painting full-time. Sales from his first show only just covered the cost of refreshments and invitations, but yielded the first of many commissions that were to come.
His Biblical paintings, represented in religious temples in more than 20 countries around the world, and his work for the Pentagon and the National Collegiate Athletic Association require intensive research and strict attention to factual detail. While these historical paintings satisfy his desire to render works with a sense of permanence, his whimsical paintings afford him the freedom to transfer his imagination to canvas. When Olsen paints a treehouse, he paints it the way the children climbing it imagine it to be – the simple boards and nails of reality become elaborate, majestic castles in the sky.
Olsen's paintings are included in many corporate collections, including Mobil Corporation, Turner Broadcasting System, Westin Hotels, World Explorer Cruises and the American Cancer Society, as well as the Pentagon, the U.S. Forest Service and the state of Idaho. His works have been exhibited in prominent art galleries.