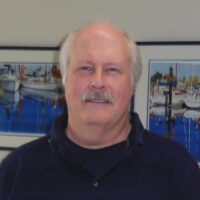 Greg Snead has been painting for as long as he can remember. Though largely self-taught, Greg studied art for a time at California State University at Fullerton. He credits accomplished artists such as John Koser, Scott Moore and Al Porter with influencing his style in his earlier years.
Greg combines his expert use of watercolors, powerful composition and unique perspective of his chosen subject to create a dynamic, jewel-like imagery. Through multiple layers of washes he achieves rich vibrant color with transparent watercolor paints. Following the tradition of transparent watercolor purists, the white in his paintings is the white of the paper. The subject Greg chooses, whether the colorful city streets of Victoria or Vancouver Island's local marinas, works as a means of demonstrating how the play of light and shadow are integral to his perspective of life and art.
Greg's work has been shown and received with enthusiasm in galleries in Canada and the United States. His work is included in collections in North America, Europe and Asia.