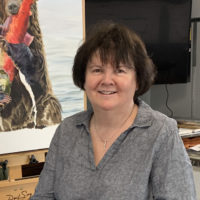 BACKGROUND AND EDUCATION
Like many artists, Heather loved art from an early age.  She learned many of the fundamentals about drawing and painting from her father, who was an accomplished commercial artist and oil painter, and has a lot of fond memories of the time she spent with him learning about art.
Although she pursued a full-time career in law and business, her love for art never left her. Heather joined a local art group in the 1990's which was led by a professional artist, and she continued to develop her technical skills under his guidance for over twenty years. The balance of her art education has been acquired through attendance at workshops, extensive self-directed, independent study, and mentorship programs with several well-known professional artists. Heather considers continual learning to be part of the ongoing journey as an artist, and she is as passionate about learning as she is about painting!
Heather retired from law in 2015 and is now a full-time artist.
STYLE
Heather works exclusively in oils in a realistic style. She is known for her careful attention to detail and accurate depiction of the subjects she paints. She usually paints on oil-primed linen panels or stretched canvas, and her paintings are of archival quality. 
INSPIRATION
Heather lives on an acreage in Alberta, Canada and has spent a lot of time in the Canadian Rocky Mountains. She has always had a deep love for nature, animals, and the western landscape. That passion remains with her to this day and is often reflected in her art. Living on an acreage, she enjoys being surrounded by nature and has a wonderful, spacious studio which also provides a lot of inspiration for painting. It has a high, vaulted ceiling and an oversized screened garage door so she can enjoy the sensation of painting "almost outdoors" in the summer months!
"What draws me to a particular image is usually dramatic lighting or colour or, in the case of animals, a scene that shows the character or typical behaviour of an animal. I am also particularly drawn to scenes that show water reflections, regardless of subject matter. I find that images with one or more of these elements have the biggest emotional impact on me as the artist, and those are the ones I choose to paint. I will consider the painting a success if I have executed it to the best of my ability and the viewer ultimately has the same emotional reaction to the painting as I did when I first chose that particular image to paint!"
MEMBERSHIPS/COLLECTORS
Heather is an Active Member of the Federation of Canadian Artists (FCA) and is also a member of the Edmonton Chapter of the FCA. Her work is owned by collectors in Canada and internationally.
RECENT SHOWS
Calgary Stampede Western Showcase, Artist Studios (2022)