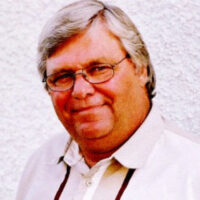 Henri de Groot produces highly refined Portraits of the West out of his home studio west of Edmonton, Alberta. He works in graphite and oil to produce beautifully detailed images of people and horses that often convey his sense of humor and reveal a glimpse of a real life cowboy or rancher.
De Groot produces his yearly output evenly between colour (oil) and black and white (pencil). Oil lends itself well for landscape scenes to capture the subtle shades and light of nature, while pencil drawings give the portraits depth and old time western feel.
Completely self-taught, the artist feels the most important element of any art work, is light and composition, and no amount of technique will overcome the lack of those basic elements.
De Groot's works are exclusively figurative and his unique ability to capture the character and likeness of his subjects, plus the incredible crisp style has won him numerous accolades.
Looking back on more than a decade as one of Canada's premier portrait artists, de Groot said he is extremely grateful the vocation came naturally to him.
Selected Awards & Accomplishments
2004 – Founders Award – Best Portrait of Show, National Open Portrait Exhibition, CIPA
2004 – Best of Show Artist – Calgary Stampede Art Show
2001 – Collectors Choice – Calgary Stampede Art Show
2001 – Artist Choice – Calgary Stampede Art Show
2001 – Best of Show – Western Spirit Art Show, Cheyenne Wyoming
2000 – Best of Show – Calgary Stampede Auction
1999 – Artist Choice – Calgary Stampede Art Show
1999 – Best of Show – Western Spirit Art Show, Cheyenne Wyoming
1998 – Best of Show – Western Spirit Art Show, Cheyenne Wyoming