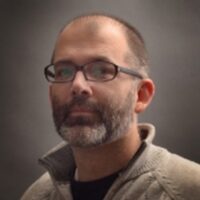 Howard Lyon was born and raised, the youngest of five children, in Mesa, Arizona. Howard had very supportive parents who, even when he was very young, made sure he had the materials and education to hone his talents. While attending high school Howard met his wife, Shari Lunt. They married after they graduated, went to college, and they now have three children and reside in Mesa.
Howard began his career studying illustration working with artists such as Robert Barrett, Don Seegmiller, James Christensen and Greg Olsen. Over the past 15 years he has worked in the video game industry as an Art Director, concept artist and freelance illustrator. For much of his career he has painted dragons and trolls and other scenes from science fiction. His work can be found in products including Dungeons and Dragons books, World of Warcraft cards, Magic the Gathering, Orson Scott Card's Inter Galactic Medicine Show and Star Wars.
He has studied art in Italy, France, and most recently at the Grand Central Academy in New York. He has combined these experiences to expand his subject matter to create inspirational pieces in the style of some of his favorite old masters: William Bouguereau, Lawrence Alma-Tadema, and John William Waterhouse.