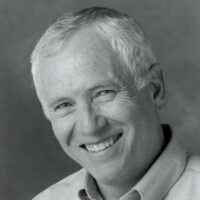 Inspired by the world's myths, fables and tales of imagination, James C. Christensen wants his work to add up to more than a beautiful–if sometimes 'curious' looking work of art.  Having taught art professionally for over 20 years, he likes to think of the world as his classroom.  His hope is that through whatever he creates–be it a porcelain, fine art print or book–he can convey a message, inspiration or a simple laugh.  He believes that teaching people to use their imagination helps us find solutions to sooth the stresses of everyday life–or get a little lift to help us keep going.  In short:  all things are possible when you share Christensen's philosophy that "Believing is Seeing."
Christensen was born in 1942 and raised in Culver City, California.  He studied painting at Brigham Young University and, for a while, the University of California at Los Angeles before finishing his formal education at BYU.  Since then, he has had one-man shows in the West and the Northeast, and his work is prized in collections throughout the U.S. and Europe.
The artist has been commissioned by both Time/Life Books and Omni to create illustrations for their publications and his work has appeared in the prestigious American Illustration Annual and Japan's Outstanding American Illustrators.  Christensen has also won all the professional art honors the World Science Fiction Convention can bestow, as well as multiple Chelsey Awards form the Association of Science Fiction and Fantasy Artists.
Christensen's fine art now appears as works of art in porcelain from The Greenwich Workshop Collection, artist-inspired products such as note cards, silk ties and books.  The first, A Journey of the Imagination:  The Art of James Christensen, was published to great acclaim in 1994.  His second, the adventure fantasy Voyage of the Basset, has more than 75, 000 copies in print.  His third, the inventive Rhymes and Reasons, was published in May, 1997.
James Christensen passed away on January 8, 2017 at the age of 74.