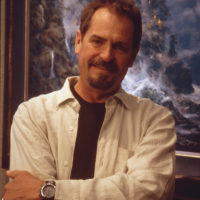 Coleman's wonderful sense of color and ability to translate emotion into image molded his professional career as a fine artist, spanning over 26 years.
James Coleman didn't need to go to Hollywood he was born there in 1949. He found his artistic niche at Walt Disney Studios as a background animation specialist for 22 years. Winnie the Pooh, The Little Mermaid, and Beauty and the Beast came to life with James Coleman's background images gracing the screen
James Coleman… a name synonymous with tropical rainforests, rich deep woods, and silent deserts. The art created by this talented man continue to delight all.
Eventually Coleman left the motion picture industry and turned his talent to canvas full time. Today he continues to illuminate the are world with his vibrant colors, gentle moods, and exquisite detail. His artwork is represented by some of the most prominent galleries in North America, the Orient, and the Hawaiian Islands.
"I attempt to push the statement I am making to its ultimate, both in design and in use of color." – James Coleman