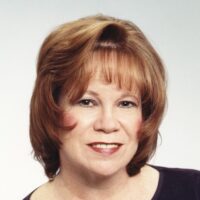 The richly hued flowers in the paintings of Jane Jones may appear fragile and delicate, but they possess within them the power to command the eye and captivate the viewer.
Jones isolates one or two flowers, highlighting their color and unique attributes. A simple vase, made timeless by its classic shape, or a sparkling crystal bowl add to the contrasting play of light and shadow in her contemporary works that transcend time. Luminous and graceful, poised in spacious settings, her flowers radiate an inner light. Jones accomplishes this effect with an Old Masters' technique, layering oil glazes over her opaque underpainting to achieve a depth of light and luminosity.
A Denver native, Jones was a creative child who loved coloring books and was fascinated by how living things worked. She earned her Bachelors Degree in biology. Invariably, her lab drawings were considered the best in her class. In 1986, her life reached a turning point when she happened to overhear two women in a bookstore. After they left, Jones picked up the book that one of them had so highly recommended to her companion. It was Portrait of an Artist — A Biography of Georgia O'Keeffe (Simon & Schuster, 1980). Until she read this book she had not acknowledged having similar artistic feelings. Jones began to search for art schools, believing that "Life will lead you where you're meant to go." Having had no previous formal art training, her studies afforded her the time and space to learn and develop her artistic technique.
Jones sees power in nature's fragile beauty, and her paintings combine her scientific knowledge with her deep reverence for the life force common to all living things in the natural world. For her, the sunlight shining through a leaf in her garden has the same mystical qualities as light streaming through the stained glass windows of a cathedral. She believes that there is nothing more beautiful than flowers, fruits and vegetables illuminated by the sun, referring to them as "nature's jewels," and to the outdoors as "the great cathedral." Working from the reference photos she takes in her garden, Jones will often add symbolic touches to her paintings, such as flat river stones. Aside from creating a good compositional counterpoint to balance the flowers, the stones are a reminder that water is necessary for life and that all life grows from the earth.
Jones has been painting for 20 years, ten professionally. Her paintings have been presented nationally in juried shows, as well as in one-person and group shows. She has won numerous commissions and awards, most notably the Floral Award presented by the American Artists Professional League at their annual Salmagundi Club show in NYC. She is also a member of Oil Painters of America, American Academy of Women Artists and Women Artists of the West. Her work can be seen in The Best of Flower Painting, Volumes I and II, published by North Light Books.
Observing that there are far too many things that pressure us in the modern world, Jones' paintings appeal to us to consider the wonder of one living flower at our leisure, with ample space and without distraction. She says, "My paintings are usually simple and uncluttered to show off the beauty of each individual flower. In our busy and overwhelming world, I want my paintings to be a sort of visual sanctuary — a moment of serenity and peace, focused on the beauty of nature."