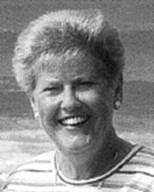 Canadian artist, Joan Healey, has been painting for over thirty years. She is a self-taught artist and has attended many workshops with Harold Olsen for painting with Watercolors, and Harold Lyons for using Oils. Healey has learned much from the Library and fellow artists for whom she has a great respect for.
A native of Edmonton, Alberta, Canada, Healey has been a fan of the Canadian national Hockey League since her childhood and is married to a former professional, Richard Healey, who played for the Detroit Red Wings.  Healey was a stay at home mom, and began to paint through her Kinsmen-Kinette connection and the artist says she found a great sense of peace with this new venture, after a very short time friends and family started to encourage her by purchasing the artwork she created.  Healey is a mother of three, and Grandmother of seven. "Being a Grandparent is your ultimate reward for being a parent. I have always had a great love of children, perhaps cause I've never really grown-up myself. "  Joan Healey is able to connect with children's honesty and spontaneity and this is why the artist enjoys painting them. For this reason, children have been Healey's subject matter over the years, combining landscapes with children doing whatever children do.  The hockey subject came from her family's interest in the game, and Healey does paint other sports as well.
Joan Healey mainly paints now in watercolor and acrylic, not so much in oils anymore. Along with many accomplishments Healey has done Calendars for Canadian Tire (Nationally) she was chosen as the artist to do a calendar for Alberta Pool with an entry of 80 other artists, also Home Hardware, and a fund-raiser for Cystic Fibrosis.  Healey does a calendar of her own, for a Promotional Company and they sell it to various business people who use the calendar to promote their own business which sells over 70,000 a year in Alberta, Saskatchewan and B.C.  Healey says one of her proud moments, was a painting she had done for Wayne Gretzky that was given to the former Oiler player, by the City of Edmonton when he left Edmonton.  After the huge celebration at the Sky Reach Centre Healey was invited to have dinner with Wayne, Janet, (and Paullina) who was just a baby along with Walter and Phyllis Gretzky. The painting is talked about in Wayne's Book "Gretzky".