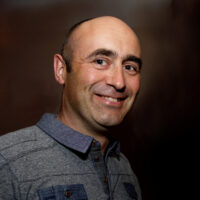 It's the satisfaction of pushing formless gobs of paint around until they coalesce into something that looks real that excites me about painting. I've tried, unsuccessfully, to paint with less detail but that is not who I am. Leaving something incomplete, whether that be the subject or its environment, pates me to the point of madness"
John was born on February 17, 1970 in Styvechale, Coventry. There have been artistic people throughout John's family history and he has inherited his abilities. Self taught, John skills as an artist have grown with him. His aim is for each piece to capture the life and spirit of the subject he paints. His earlier works were in pencil and were mainly human subjects. John has experimented with various other mediums from oils, watercolors and pastels, eventually realizing that his favorite medium is acrylic.
"As a child I loved magic. Through it, you learn there are big differences between people observing something their brain has determined they will see, as opposed to what their eyes actually see. My art takes advantage that," relates John Bye. "I paint photo-realistically because I am fascinated with technical aspects and the skills necessary to do it successfully. I see my paintings as High Definition windows on the world."
John Bye has mastered the balance of creating truly beautiful art while employing great technical prowess. Get close enough and there is indeed a point where you can see what Bye has created is a painting. When you own a Fine Art Edition of John Bye, you will have the satisfaction of possessing something of great beauty and watching friends and family discover that something that appears to be so real is in fact quite the opposite.