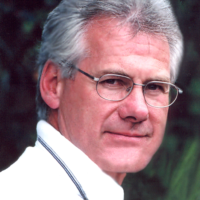 A Graduate of the Alberta College of Art, Calgary, John began full-time painting after twenty years in graphic art and advertising management.
"8 years of painting 24 images per year, for two national calendars while working full-time was a great way to develop the discipline required to paint in a realistic and meticulously accurate style. It also gave me the freedom to experiment with a wide range of subject matter which included animals, people, country scenes and still life. Watercolour came easier to me as it was my preferred medium in graphic art design and commercial illustration. I love the control of flowing and soft blends that watercolour allows. I go a step further by detailing my subjects as some acrylic and oil painters do. This style often baffles people who are used to a certain looser style normally associated with watercolours."
Born and raised on the prairies and a life-long resident of Alberta, his love for nostalgic treasures form the basis of his recent still life works. "I derive great satisfaction from painting something that has emotional and personal significance to my clients" These subjects can range from delicate crystal and lace settings to musical instruments and garden scenes. The artist has recently begun a new series of Impressionistic landscapes in oils.
John Zacharias has enjoyed sold out shows and was recently awarded 'collectors choice' at a major show in Calgary, Alberta. His paintings are collected throughout the world.
ARTIST CREDENTIALS
EDUCATION
W. R. Meyers High, Taber Alberta 1962
Alberta College of Art, Calgary Alberta 1968- 1972 (B.F.A. Degree)
COMMISSIONS
Edmonton Oilers- Wedding gift for Wayne and Janet Gretzky (City of Edmonton Alberta)
Alberta Government-Tourism
Edmonton Eskimos Alumni
8 Alberta Government Portraits
Many Private Commissions
SHOW EXIBITIONS
1993      The Alikat Gallery, Bragg Creek, Alberta  Sold Out
1994      The Alikat Gallery, Bragg Creek,  Alberta  Sold out
1995      Rocky Mountain Gallery, Calgary Alberta
1996      July Calgary Stampede Western Art  Exhibition Gallery – Sold Out
1996      Western Lights Artists Group -Manual Life, Edmonton  Alberta
1997      Oct.-  Artist Direct, Calgary Alberta
1998      Picture This Framing and Gallery, Sherwood Park, Alberta
1997       July – Calgary Stampede (Juried Show)–Sold Out
1998      Western Lights Artists Group, Eau Claire Gallery, Calgary Alberta
1998      Oct.-  Artist Direct, Calgary Alberta
1999      February – Picture This Framing and Gallery
1999      Oct.-  Artist Direct, Calgary Ab.
1999      Oct. Picture This Gallery Sherwood Park Ab.
2000     Calgary Stampede – July 6-16 (Juried Show)
2000      Artist Direct , Calgary Ab. (Won Collectors Choice – Best Watercolor)
2000      Picture This Gallery Sherwood Park Ab. – Oct. 21.
2000      Garden Gallery -Oct. 25
2000     The Grand Gallery -Nov. 9
2001      Calgary stampede –July (Juried Show)
2001      Art Essential – Oct
2001      Picture This-Nov
2002     Calgary Stampede Western Art Show (Juried Show)
2003     Calgary Stampede Western Art salon (Juried Show)
2004     Calgary Stampede Western Art salon (Juried Show)
2004     Picture This "Masterpieces in Miniature show" (Invitation Only)
2005     Calgary Stampede Western art salon (Juried Show)
2005     Picture This  "Master Pieces in Miniature Show" (Invitation Only)
2006     Calgary Stampede Western Art salon (Juried Show)
2006     Picture This "Masterpieces in Miniature Show" (Invitation Only)
2007     Calgary Stampede Western Art salon (Juried Show)
2007     Picture This " Masterpieces in Miniature" (Invitation Only)
2008     Picture This "Masterpieces in Miniature" (Invitation Only)
2009     Picture This "Masterpieces in Miniature" (Invitation Only)
2009     CFR Rodeo
2010      Picture This "Masters in Miniature"Miniature show (Invitation only)
2010     Calgary Stampede Western Art Salon  (Juried Show)
2011       Hyatt Regency Hotel "ReflectionsWest Art Show"  (Invitation only)
UPCOMING SHOWS
2011    Calgary Hyatt Hotel Premier Art Show "Reflections West" Artist Guild master member
2011     16th consecutive year Calgary Stampede Western Art Salon  (Juried Show)
LIMITED EDITION PRINTS
"Misty Retreat" Giclee published by Reflections West Art Edition size – 90 + 9 Artist Proofs
PUBLICATIONS
Calgary Stampede 1997 Agricultural Calendar Cover
Edmonton Oilers Program Schedules
Health Care and Computing- Vancouver World Convention
AWARDS AND ACOMPLISHMENTS
2000 – Collectors Choice Art Essential 2000
2001 – Best Of Show – Jurors Choice (Stampede Auction) 2001
2011 – Inducted into Artist Guild "West Guild" Master Membership Feb 2011– Calgary Alberta
CORPORATE COLLECTIONS
Balboa Land Developments
City Of Edmonton
Edmonton Eskimos
Exploron Corporation
Alberta Government
Land Conservation society Toronto Ontario
Hyatt Hotel Calgary Alberta
Coril  Holdings