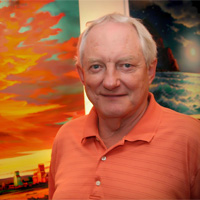 Jonn Einerssen has studied light as his life's work since he started to paint at the age of 21.The allure of wide open spaces-where the imagination can wander as far as the eye can see-has been the dominant inspiration for Jonn's golden prairie landscapes and sunlit seascapes; the subjects and style he has become known for." Art is not a product of decoration, but a window into some place you have been, or want to go. Rather than limiting your space within the confines of a frame, art should expand your view," says Einerssen.
Both privately and self-taught, Einerssen has followed a successful, adventurous career as a self-sustaining artist for over three decades, painting and exhibiting across the continent. Jonn spent many years on the west coast and living in The Rockies while establishing a fine arts career. He eventually settled in Kelowna, where his studio and gallery are currently located. Einerssen finds inspiration in his years as a boy living on the prairies; he paints what he remembers seeing on the horizon of his childhood like the grain elevator. His pioneer spirit is kept alive because Jonn is compelled to document his experiences in his ever-popular prairie landscape paintings.
In recent years Einerssen's work has evolved in a more impressionistic direction: dramatic cloud formations, less detail, more blended shapes, and the always present angular light. He jokes that his evolving style is "not about his eyesight worsening, but because he is painting more of what he feels, than what he sees." Einerssen also adds that "what you see with your eyes doesn't always capture what you feel. When I paint, I am adding the emotion back in." Einerssen conducts workshops throughout the year, passing on this disciplined approach to aspiring artists while demonstrating his masterful style and technique.
CREDENTIALS:
MUSEUMS: King of Yemen
ART SHOWS AND EXHIBITS: Many shows with the Western Lights Artist group all over North America
PUBLICATIONS:
Arts & Antique Magazine
Cabo Life Magazine
Who's who in North America
PUBLISHER: Western Lights Artist Group