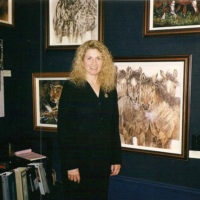 Judy's unique approach to her work is through the use of the rare and demanding scratchboard technique. Working on smooth Clayboard, a board with a white china clay surface, she paints her subject solidly with black India ink. Then, using an X-Acto knife and blades that she changes every few minutes, she scratches out magnificent detail.
Two themes predominate, and often converge, in Judy's "art of concealed imagery": the precarious balance of wildlife in today's environment and the fate of Native Americans whom Larson especially admires for their intuitive understanding of ecological balance.
After receiving a B.S. in Commercial Art from Pacific Union College in California, Judy spent 17 years as a commercial artist, illustrator and art director. In addition to limited edition fine art prints, her work has been published in two books, Hidden Spirits: Search-and-Find Scenes from the American West, a children's book, and The Spirit Within.