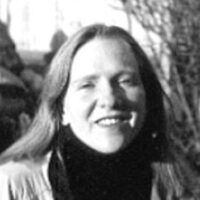 Fascination with the natural world, led Kerri Burnett to study both Science and Art at the University of Alberta and complete a Bachelor of Fine Arts degree with distinction.
Kerri has made numerous contributions to the national Ducks Unlimited program and in 1997 had the honour of designing Wildlife Habitat Canada's Federal Duck Stamp. Kerri has designed numerous coins for the Royal Canadian Mint. Her work has juried in to both Wildlife: The Artist's View and Birds In Art at the world-renowned Leigh Yawkey Woodson Art Museum in the United States. Kerri also successfully participated in the Christie's 1996 Wildlife Art Auction in London, England. She is a signature member of the Society of Animal Artists in New York.
Most often she works with water-based oil paint and her original works are exhibited at Art of Man Gallery in Lake Louise, and PictureThis Gallery in Sherwood Park.
Kerri experienced a disabling stroke in 2010 and now completes her artwork with her non-dominant (left) hand. Kerri resides with her husband and three Black Russian Terriers in Sherwood Park, Alberta.
Phone: (780) 417-5077 Cell : (780) 722-2466
e-mail: kerriliseburnett@gmail.com
CREDENTIALS:
RESIDES: Sherwood Park, Alberta, Canada
EDUCATION: BFA with distinction (U of A), B.E.D.
PRINT PUBLISHERS: 1995, 1996 – National Artist Print for DU, 1995 – raised over $105 000 for the National Program
ACCOMPLISHMENTS:
2010 – Ground Sloth Platinum Coin – RCM (Royal Canadian Mint)
2009 – Portrait Society of Canada National Finalist
2008 – Finalist International Portrait Arts Festival, Toronto, Ontario
2008 – Membership: Portrait Society of Canada
2007 – Trumpeter Swan $1 Specimen Coin – RCM
2007-2011 – Dinosaur $4 silver coins – RCM
2007, 2009 – Olympic Them gold coins – RCM
2004 – Grizzly Bear platinum coins – RCM
2003 – Feature artist, Calgary Stampede Gallery exhibition
1998 – Gray Wolf platinum coins – RCM
1997 Federal Duck Stamp – Wildlife Habitat Canada
1997 – Elected to membership: Society of Animal Artists N.Y.
1996 – Christie's Wildlife Art Auction, London, England
1995, 1996, 2005 DU National Portfolio
EXHIBITIONS/ GALLERIES:
– 2005-2013 – Masterpieces in Miniature, Picture This! framing & gallery, Sherwood Park AB
– 2002-2013 – Art of Man Gallery, Lake Louise, AB
– 2000-2004 – Calgary Stampede GAllery Exhibition
– 2006, 2005, 2002, 1999, 1996 – Birds in Art, Leigh Yawkey Woodson Art Museum, WI
– 2000, 2006 – Birds in Art, National tour, U.S.A.
– 1998 – Society of Animal Artists Annual Exhibition, Disney World, Florida
– 1997 – Wildlife: the Artist's View, Leigh Yawkey Woodson Art Museum, WI
– 1997-2002 – Animal Art in the Park, Algonquin Park, Ontario
– 1996 – Natural History Museum, London, England