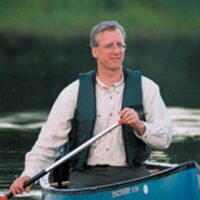 Kim Norlien was raised in Minneapolis, Minnesota and spent his childhood summers up at the lake with his grandparents and extended family in rural Minnesota.  His interest in art began after high school when he enrolled in the commercial art program at Minneapolis Technical College
After his graduation,. he spent eight years working as a commercial artist for Honeywell, followed by nine years as a commercial freelance illustrator.  Kim Norlien's work for national companies such as General Mills, Sam Goody, 3M, Carlson Companies, and others, won him awards and national recognition and further developed his skill and painting techniques.
Mr. Norlien's passion for his art is only exceeded by his faith in God and his love for his family and friends.  He has been married for twenty-six years to his high school sweetheart, Lori.  A committed Christian, he believes all of creation is a reflection of God's glory.  His artistic passion is to encourage and uplift his art collectors by creating scenes of beauty filled with peace and tranquility.  Mr. Norlien also hopes to create art of lasting quality by pursuing excellence in composition, color, and rendering. Currently, thirty-five of his original paintings have been published as print and canvas reproductions, along with many other gift items.