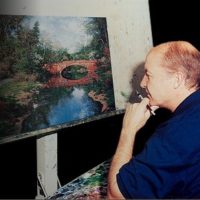 Larry Dyke is one of the most talented and versatile artists in print today.  A native Texan, Dyke currently lives in Friendswood, Texas and began painting professionally in 1976. He prefers oil on canvas and is a master of composition and perspective, balancing attention to detail with exquisite artistry and imagery.  He is equally at home painting a manicured golf course or a panoramic landscape.
Dyke is best known for his fabulous paintings of classic golf courses.  He collects research and inspiration for his golf landscapes by visiting and playing many of the world famous courses he paints.  He has collaborated with Jack Nicklaus on painting several golf holes from Nicklaus' courses.  Nicklaus is now a collector of Dyke's work.
Other collectors of his work include prestigious celebrities and heads of State.  Dyke's painting of the Pope's visit to America was presented to the Pope and is hanging in the Vatican today.
The artist attributes his talent and inspiration to gifts from God – and every painting bears witness to his faith in God and a desire to paint the beauty of His creation.  The first book featuring his art, "Larry Dyke: Revealing the Beauty," was released in 1999 and met with great success.