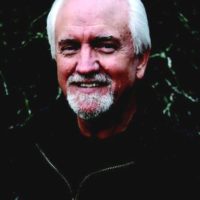 Drawing, painting and picturing life are among Lee Bogle's earliest memories. A Native Northwesterner, his art has always been more than a astime. For many years he has described his art as a passion. Bogle continues to live in the Northwest where he is surrounded by the beauty of nature.
After receiving his degree in Art from Central Washington University and pursuing graduate study at the University of Washington, Bogle chose a career in education. During his years of teaching, he continued to spend time pursuing his own artwork. As the demand for his work grew, Bogle was faced with choosing between two careers. He decided to leave teaching to pursue his lifelong dream of being a full time artist.
Bogle's technical skills as a draftsman are especially evident in his renderings of the human figure. He combines vivid, realistic detail with the expressive qualities of abstraction. One of Bogle's hallmarks is the serenity he instills in each of his images. Another is the intricacies he manages within his medium, whether it be watercolor, oil or pastel.
Bogle enjoys creating many of his images with pastels on a handmade bark paper. The paper has a very textured surface which portrays an aged and primitive quality, and lends itself well to Bogle's style.
A nationally renowned and published Artist, collectors know him for his images of Native Americans, often solitary figures of women. "I try to convey a spirituality in my art that the viewer must interpret for himself," Bogle says, "I want my paintings to show a peaceful contemplation and express a depth of serenity that comes only with quiet inner peace.