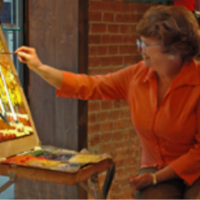 Ever since I was a young girl, I have enjoyed art in all its forms. My favourite subjects are landscapes and close-ups of nature, and I hope my paintings bring a little bit of the outdoors to people who might not have the chance to walk in the country. I want them to "step" into my paintings and find a bright, cheerful place."
Born in Edmonton, Alberta, Canada in 1943, Lois Bauman takes the wild landscape around her and reinterprets it in dynamic impressionistic style. She applies brilliant colours using free yet reflective brush strokes as she "caresses" the work to completion. Her compelling and highly-collectible paintings of Canadian landscapes can be found throughout her home country and around the world, including Japan, Australia, New Zealand, Ireland, England, Wales and the United States.
Lois studied the art of oil painting at Seattle Pacific University as well as at the University of Calgary, Alberta College of Art and Design and Red Deer College. She is presently a signature member of the Alberta Society of Artists, associate member of the Oil Painters of America and an active member of both the Federation of Canadian Artists and the Leighton Art Foundation. Lois is also a founding member and past president of the Airdrie Artists' Guild.
Lois is an award-winning artist, with first-place showings at the Big Country Games Regional Artists' Competition, Zone 2, 1989 and at various other local shows in 1989, 1990 and 1993. She won the First Place Jurors' Choice Award at the F.C.A. Bankers Hall Juried Show in 1996. Her art has also been represented in juried shows at the zonal, provincial and international level.