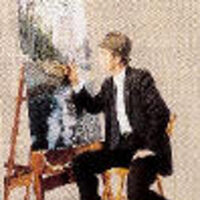 Loren Chabot has been painting all of his life.  His family supported and fostered his early artistic inclinations by enrolling him in the Shepy International School of Art, at the age of 6.  He studied there for 12 years, mastering the techniques of drawing, pastels, watercolors, sculpture and oils, eventually becoming the youngest instructor in the history of the school.  In 1974 he attended the Banff School of Fine Arts.
Loren attended the U of A where he did graduate studies in English, History, Psychology and Molecular Biology.  While pursuing his academic studies, he moonlighted as an artist.  He designed and constructed theater sets for French Theater, worked on portrait commissions and participated in group exhibitions.
Loren travels widely with his art.  750 galleries in the U.S. have requested his work and he has had shows in New York, Atlanta, Kentucky, Calgary, Toronto, Ottawa and Windsor.  He recently graduated in Classical and Computer Animation from Sheridan College in Oakville.