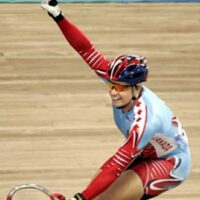 One of Canada's top performers at the 2004 Olympic Games, Lori-Ann Muenzer captured a gold medal in Athens with her outstanding performance in the women's Match Sprint finals. With her Olympic victory, Muenzer became the first Canadian to bring home a gold medal in cycling.
Apart from reaching the top of the podium in Athens, Muenzer has captured several medals on the international stage including two silver and two bronze at the World Track Cycling Championships and a total of one silver and two bronze at the 1998 and 2002 Commonwealth Games. She made her Olympic debut for Canada at the 2000 Olympic Games in Sydney, Australia.
A resident of Edmonton, Muenzer has also accumulated an outstanding 13 National titles and 11 World Cup medals throughout the course of her career.
Muenzer has received honours to date from being named the 2004 Canadian Press & Broadcast News' Female Athlete of the Year, induction into both the Alberta and Edmonton Sports Hall of Fame, and to receiving the 2005 Tribute to Women of Distinction "Honourable Lois E. Hole Award for Lifetime Achievement" by the YWCA.
With an upcoming documentary and book, Muenzer is also applying herself to one of her other loves the area of Fine art photography.