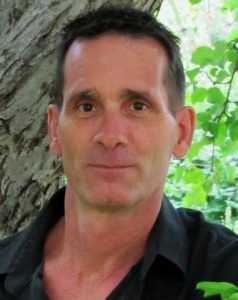 M ark Farand left his career as a graphic designer and commercial illustrator in 1990 to focus his attention on fine art.  The style for which he has become recognized began as an occasional escape from the intensity of painting high-realism wildlife. He soon discovered that others also found joy in his flowing, and sometimes tongue-in-cheek way, of bringing urban and rural scenes of the past back to life.
Through Mark's eyes, an old grocery store dances on the corner while another transforms into a milk carton. Abandoned gas pumps twist into an embrace; chickens in disguise gather secretly in a swaying barn at midnight; and aging grain elevators bow gently with the surrounding wheat in the prairie wind. Alluding to the nature of the subject matter, a number of cobwebs are spun into each painting. (For a clue as to how many to look for, check the number after the artist's signature.)
Mark brushes-off 'staying in the lines' while holding a high regard for perspective, with vanishing points preserved through every roll and surge.  It is apparent in the vibrant use of colour and perceptive treatment of light that each Farand painting is a celebration of the artist's love for his craft.
Mark studied illustration and design at the Art Academy of Cincinnati and at the Alberta College of Art and Design (ACAD).  He was born and raised in Calgary, Alberta, which he still happily calls home. Mark's work has shown in galleries across Canada and the US, and has exhibited in many solo-artist and group events. His artwork is included in numerous personal and corporate collections.
Collections include: The Alberta Foundation for the Arts, Impact Construction Services Inc., Value Drug Mart Associates Ltd., Altamira Investment Services, Swenson Security Services, Big Guns Energy Services, Young EnergyServe, Merrill Lynch, Trotter & Morton, Dalla Lana Professional Corporation, Matrix Real Estate Ltd., Pinnacle Oil and Gas, Pan Canadian Petroleum, and Renaissance Energy amongst others.