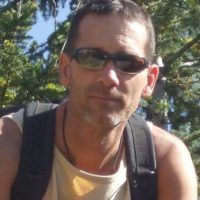 Infusing urban and rural scenes of the past with new life, Mark Farand's oil paintings evoke memories of the terrain in which his generation grew up. In his work, he animates the beloved locales and markers of bygone days with a signature flowing line, curve, or twist: an old grocery store dances on the corner, abandoned gas pumps sweep into an embrace, and aging grain elevators bow gently with the surrounding wheat in the prairie wind.
In 2019, Mark expanded his style to include oil painting on scroll cut wood — designing a 3-dimensional 'canvas' with individually scroll cut pieces of wood of varying widths. At first glance, the finished artwork looks like an oil painting, but the dimensionality of the piece is revealed when viewed from varying angles and with the shifting of the day's light. Mark's venture into oil painting on scroll cut wood has inspired him to also explore painting landscapes and wildlife in this unique and striking method.
Mark was born in Calgary, Alberta, and studied illustration and design at the Art Academy of Cincinnati and at the Alberta College of Art and Design (now called Alberta University of the Arts). His work has shown in galleries across Canada and the US and in numerous solo-artist and group events, including the Calgary Stampede Western Showcase Artists' Studios since 2011.
His artwork can be found in many personal and corporate collections, including: The Alberta Foundation for the Arts, Altamira Investment Services, Big Guns Energy Services, CMF Professional Corporation, Dalla Lana Professional Corporation, Impact Construction Ltd., Matrix Real Estate Ltd, Merrill Lynch, Nerland Lindsey LLP, Pinnacle Oil and Gas, Pan Canadian Petroleum, Quarry Bay Investments, Renaissance Energy, Seiferling Law, Swenson Security Services, Trotter & Morton, Value Drug Mart Associates Ltd., and Young EnergyServe Inc, amongst others.
____________________________________________________________________
Contact and Social Media:
2215 Glenmount Dr SW Calgary AB
markfarand@shaw.ca
403-217-8505
Website: www.markfarand.com
Facebook: Mark Farand Fine Art
Instagram: @markfarandart