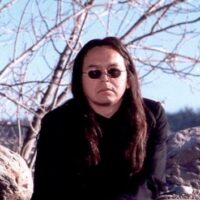 Mark Seabrook, a gifted Ojibwe artist, poet, writer, performer, and playwright now resides on Manitoulin Island, his hometown, after exploring the Ottawa artistic and spiritual community.
Like many artists, Mark is an intriguing individual, sociable and solitary by turns. Both aspects are fuelled by a life that bridges the rural and the urban, – the primitive and the urbane.
He paints wherever he is, filling his canvases with bright blocks of acrylic colours layered later with more subtle care. His style is strongly reminiscent of another aboriginal artist, Norval Morriseau, – one of his sources of inspiration.
He is driven to record, again and again, bold images and symbols that speak eloquently of his Ojibwe heritage. Once his vision is recorded, he works with it, refining and enhancing it until he is satisfied and can move on to the next canvas.
Mark has a gift for depicting aspects of aboriginal culture and spirituality that extend beyond common stereotypes. His paintings usually include people and each figure is adorned with and surrounded by symbols that define who they are inside, as well as how they appear to the world. Both are important to Mark.
Drawn to record the contribution of aboriginal people to the North American military, Mark has produced several paintings that pay tribute to their efforts as warriors for their countries.
Although Mark's early works often depicted solitary men (usually Mark himself or one of his brothers), his latest works are breathtakingly beautiful images of couples, of mothers and children, and of families. Magically, they pre-date but appear to predict his partner's pregnancy!
Born to both Bird Clan and Fish Clan, birds and fish feature prominently in many of his paintings. The birds, often ravens, sit silent and bear witness or carry messages to the figures that live within his works.