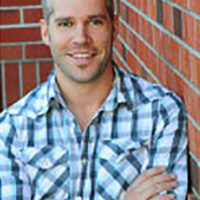 Mathew Michael Coles was raised in the art industry. From an early age Mathew was surrounded by art and artists of all calibers and styles. Beginning in high school, painting became a passion and source of inspiration. After attending Sheridan College for Fine and Media Arts, Mathew became a competitive rock climber and fell in love with the outdoors. Soon after, Matthew became a sculpture of indoor hand holds for climbing gyms, becoming arguably the best designer in the industry. From extensive research and experimentation Mathew developed a refreshing approach to painting, by utilizing aspects of sculpture and mold pouring to bring a new perspective to impressionistic abstraction. These bold new works bring a stunning and organize resolution to detail and form.
Born in Oakville, Ontario in 1975, Mathew Michael Coles was raised in his family's art business since the age of three. Immersed in gallery shows and lectures from Robert Bateman, Carl Brenders and John Seerey-Lester, Matthew experienced both sides of the art world. Finding inspiration everywhere he looked, he quickly picked up sketching and sculpting as a serious hobby. Later the works of artist Morten E. Solberg revealed the world of abstract concepts as well as the purity of free-form creativity.
"I was thrilled to see the luscious tones and subtle depths that Solberg produced. It was truly an awakening for me to see the possibilities in inherent in beauty."
Having interests in such fields as the arts, music, improv and acting, Matthew was spellbound by all the artistic possibilities the world has to offer.
"During college I was determine to find a medium that I could call my own. The art establishment was fiercely active in defining a style that was to be the artist. I wasn't thrilled with the ideology that I could only pursue one theme. I needed the freedom to explore the paths that the art world would offer to me."
Looking for the finest detail in the grandest form, Matthew has done just that; combining the technologies of industrial sculpture and contemporary art as a driving force for his vision.