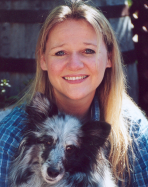 The distinct use of light, and soft edges, combined with capturing a mood, an emotion, or a moment in time are some of the qualities that distinguish the art of Maurade Baynton. Her artistic talent was discovered at an early age and she received a summer scholarship to the Banff School of Fine Arts in 1970. She has continued to develop and evolve her style spanning four decades. Her primary medium is oil, which her junior high school teacher encouraged her to try in 1968.
While focusing her artistic energy on wildlife, domestic animals, and people interacting, she tells a story through her own personal experiences with her subjects. Originating from mutual fascination, the first encounter between child and animal often leads to shared friendship and trust. "My passion is to continue portraying the unique bond that children have with the animal world and to capture a fleeting moment of innocence before they grow into adulthood"
Having had many sold-out solo and group exhibitions, her works hang in many private and corporate collections across Canada and the United States. Maurade has won awards for her distinctive style and has been commissioned to do many private works for clients all over North America.
She paints full-time in her acreage studio in Sherwood Park Alberta and travels extensively searching for subject matter. She continues to show her work in Galleries and prominent juried art exhibitions.
CREDENTIALS:
EDUCATION:
1970     Banff School of Fine Art (Scholarship)
1990     Pro-Art Workshop. Big Timber, Montana
John Seery-Lester, Jessica Jemsky, and Jack Heinz (instructors)
1994     Whiterock Centre for the Arts (summer school)Whiterock B.C., Canada Experimental Watercolor Media Workshop     Maxine Masterfield (instructor)
1995     Making Art Your Business Department of Extention, University of Alberta, Edmonton,  Alberta, Canada   Elyse Eliot-Los (instructor)
1995     Sutton Art – Color Beyond Basics, Eileen Raucher -Sutton (instructor) Edmonton, Alberta, Canada
1997     The Art of Business and The Business of Art               Rowles  & Company Ltd. Era Rowles (instructor) Edmonton, Alberta, Canada
PRIVATE COMMISSIONS
Domestic animal portraits
Wildlife commissions
Commissioned children
CORPORATE COMMISSIONS
Portrait of the Late John L, Harr ( Former President of Grant McEwan Community College)
CORPORATE COLLECTIONS
AGT
Alberta Energy Co.
AMOCO
Imperial Oil
Interprovincial Pipeline
Strathcona Developers
Trans Mountain Pipelines
Wildrose Foundation
Festival Place
Exploron Corporation
Hyatt Hotel Collection
Balboa Land Developments
Coril Holdings
CONSERVATION EFFORTS
Ducks Unlimited – Royal dinner and Auction
Donated original oil  Canadian Wildlife Federation    (Christmas Card)
Trout Unlimited – original sketch
Feesa – front cover of the calendar
Proceeds to fund several local conservation efforts
Diabetes Association
Trout Unlimited – original sketch
Festival of the Arts
Provided four original paintings of "Children of the Festival" Limited prints of 250 S/N, 100% Proceeds to help fund the operation and building of the Strathcona County Cultural Centre
Ducks Unlimited – original sketch
1985 Ducks Unlimited – ongoing print donations
1996 Ducks Unlimited – original sketch
Ducks Unlimited – original sketch
2010 – 2011 winning selection for National Art portfolio Artist Ducks Unlimited
SOLO EXHIBITS
1985     Grassland Gallery, Edmonton Alberta, Canada- sold out
1986     Grassland Gallery, Edmonton, Alberta, Canada- sold out
1987     Rocky Mountain Art Gallery, Calgary, Alberta, Canada – sold out
1988     Rocky Mountain Art Gallery, Calgary, Alberta, Canada
1989     Rocky Mountain Art Gallery, Calgary. Alberta, Canada
1990     Rocky Mountain Art Gallery, Calgary, Alberta, Canada
1991      Editions Gallery, Edmonton, Calgary, Alberta, Canada
1992     Grassland Gallery, Edmonton, Alberta, Canada
1993      Grassland Gallery, Edmonton, Alberta, Canada
1995     Editions Gallery' Edmonton, Alberta, Canada
1996     Canada House, Banff, Alberta, Canada
1996     Picture This, Sherwood Park, Alberta, Canada
1996      Peter's Gallery, Calgary, Alberta, Canada
1997      Peter's Gallery, Calgary, Alberta, Canada (Dec.- 2 Locations)
GROUP EXHIBITS
1993      Grassland Gallery Miniature Show Edmonton Alta. Canada- May
1993      Art of the Wild, Banff, Alberta Canada – October
1994      Vancouver International Wildlife Art Show, Vancouver Canada-May
1994      Pacific Rim Wildlife Art Show, Tacoma, Washington U. S. A.- September – Juried
1994      Canada House, Banff, Alberta Canada- October
1994      Avenida Gallery, Calgary Alberta, Canada
1994      Avenue of Art Gallery, Calgary Alberta Canada
1994      Prestige Gallery, Toronto Ontario Canada- November
1995      Calgary Stampede, Western Art Exhibition, Calgary, Alberta Canada-July – Juried
1995      Pacific Rim Wildlife Art Show, Tacoma, Washington U.S.A.- September  – Juried
1995      Peace Gallery North, Fort St. John, B.C. Canada- October
1995      Picture Perfect, Grande Prairie, Alberta Canada- October
1995      Picture This, Sherwood Park, Alberta Canada-November1995      Prestige Gallery, Mississauga, Ontario Canada-November
1995      Burdette Gallery, Orton, Ontario Canada- November
1995      Frames 'n Things, Grande Centre, Alberta Canada-December
1996      Western Art Sales Salon, Calgary Stampede Calgary Alta. Canada-July – Juried
1996      Pacific Rim Wildlife Art Show, Seattle, Washington U.S.A. – September – Juried
1996      Frames' n Things, Grande Centre, Alberta Canada-December
1996      Rocky Mountain Art Gallery, Edmonton Alberta. Canada-October
1997      Ferntree Gallery, Cochrane, Alberta, Canada-March
1997      Pacific Rim Wildlife Art Show, Seattle, Washington, U.S.A.-September – Juried
1997      Edmonton Woman's Show, Edmonton Alberta, Canada-October
1997      Picture This Art Gallery, Sherwood Park, Alberta, Canada-November
1997      Frames and Things, Grande Centre Alberta, Canada- December
1997      Peters Gallery, Calgary, Alberta, Canada- December
1997      Artist Direct, Calgary, Alberta, Canada-October
1998      Western Art Sales Salon, Calgary Stampede Calgary Alta. Canada-July – Juried
1998      Picture This Framing and Gallery –  Nov
1999      Artist Direct Oct
1999      Western Art Sales Salon, Calgary Stampede Calgary Alta. Canada-July – Juried
1999      Picture This Nov
2000      Western Art Sales Salon, Calgary Stampede Calgary Alta. Canada-July – Juried
2000      ArtEssential Oct
2000      Garden Gallery Oct
2000      Picture This Nov
2001      Western Art Sales Salon, Calgary Stampede Calgary Alta. Canada-July – Juried
2002      Western Art Sales Salon, Calgary Stampede Calgary Alta. Canada-July – Juried
2002      Featured Artist Show Picture This gallery
2003      Western Art Sales Salon, Calgary Stampede Calgary Alta. Canada-July – Juried
2004      Picture This "Masterpieces in Miniature" Invitational Show
2004      Western Art Sales Salon, Calgary Stampede Calgary Alta. Canada-July – Juried
2005      Picture This "Masterpieces in Miniature" Invitational Show
2005      Western Art Sales Salon, Calgary Stampede Calgary Alta. Canada-July – Juried
2006      Picture This "Masterpieces in Miniature" Invitational Show
2006      Western Art Sales Salon, Calgary Stampede Calgary Alta. Canada-July – Juried
2007      Picture This "Masterpieces in Miniature" Invitational Show
2007      Western Art Sales Salon, Calgary Stampede Calgary Alta. Canada-July – Juried
2008    Picture This "Masters in Miniature" Invitational Show
2008    Western Art Sales Salon, Calgary Stampede Calgary Alta. Canada = July – Juried
2009      Picture This "Masters in Miniature" Invitational show
2009    Western Art Sales Salon, Calgary Stampede Calgary Alta. Canada –July-  Juried
2010     Picture This "Masters in Miniature" Invitational show
2010       Western Art Sales Salon, Calgary Stampede Calgary Alta. Canada = July – Juried
2011        Hyatt Regency Hotel, Reflections West Art Show, Calgary Ab. February 24-27 "West Guild"   Master  membership
PUBLISHERS
Prairie Art Prints (1985- 1986)
Premier Art Editions (1989- 1991)
Terra- Nova Publishing (1991- 1993)
Clearwater Publishing (October 1993-2001)
Pineridge Calendar Company (1998-2003)
Lang Calendars 2003- present
Reflections West – Giclee' "Wings of Protection" Edition of 90 + 9 AP's
MAGAZINE ARTICLES
Alberta Hunters Guide (Sept.- Oct. 1993)
Canadian Art Buyers Guide (Sept.- Oct.1993)
Wildlife Art Magazine (Jan/Feb. 1996)
Art Impressions ( Summer of 1990)
AWARDS AND ACCOMPLISHMENTS
1999 – Trout Unlimited Artist of the Year
2010 – Selected to compete in the design of Canada Mint silver coin series  May 6, 2010 – Alberta Rose design 2011 – Winning selection for "National Art Portfolio" Ducks Unlimited Canada  – 800 entries Aug 2010  2011 – Inducted into Artist Guild "West Guild" Master Membership –February 2011  Calgary Alberta